Home
> HAND SCRAPED ACACIA FLOORING
HAND SCRAPED ACACIA FLOORING
tobacco road hand scraped golden acacia hardwood flooring
3/4"x 5" wide solid hand-scraped tobacco road acacia flooring
Bontanical Species: Acacia confusa. from China
MC: KD 9%-11%
Gloss Level : Satin Matt
Satin Anti-scratch 9 coats strong protective UV finish
Nail down installation for 35 years residential use
ACACIA DEPOT - mill direct shipping
Save you 40% or more than local retail market
Price Range: 3.5-3.9USD/s.q.f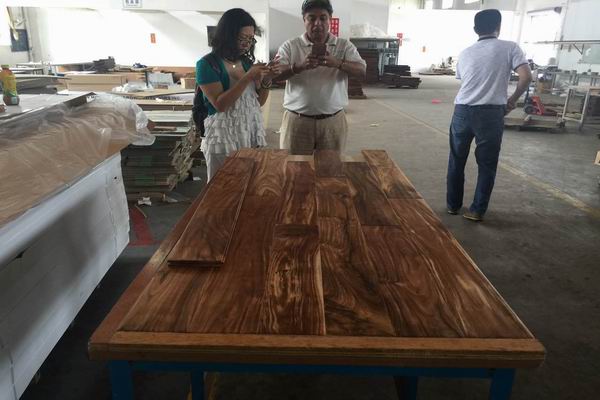 The No.1 sales item - hand scraped tobacco road acacia golden walnut ( asian walnut) from ACACIA DEPOT .Our genuine short leaf acacia lumber comes in suprisingly high durability & janka hardness over 2200 psi,while trational American walnut less than 1200psi on Janka hardness.With impressive magnificient golden walnut wood grains, our tobacco road acacia features an aluminum oxide matt UV finish for extra protection.You would get less troubles on maintenance for surface scratch issues.
Each plank is 3/4" x 5" wide with a random length. Each pack in white carton contains 23.634s.q.f planks.This hardwood comes in factory finish for 8 years residential use, and it allows 5 times more resanding through out whole life span.
By purchase high quality discounted acacia hardwood floors directly from ACACIA DEPOT mill you can save more than any buy from any US local distributors while we never compromise with quality standard.