PREFINISHED ACACIA FLOORING
acacia ebony stained hardwood flooring
Ebony stained acacia hardwood flooring
Surface: Smooth with gloss level 25°Satin
Species:Acacia confusa.from South China
Grade: Selected with limited color variations
8 years finish & life time structural
Lead time: 3 weeks after order conmfirmation
Payments:Wire Transfer / Paypal
Shipping: Direct from factory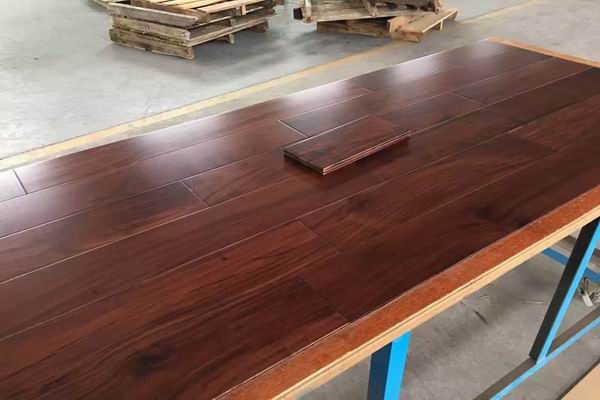 What are the interesting facts about Staining Acacia Wood?
Do you want to use durable, attractive wood for your home projects? Acacia might be the best plant for you. Because of its natural beauty and long lifespan, this kind of wood is well-known. In this post, we will consider staining acacia wood and all the various benefits of acacia wood, and how it can be used to make beautiful art. The acacia tree, found all over Africa and Australia, is the source of this kind of hardwood. African wattle is a common name because many different names in different parts of the world know it.
How to maintain the wood?
Your brand-new Acacia picnic table has already been protected with food-grade oil. This barrier may weaken with time, making the Acacia wood more vulnerable to injury. Once or twice a year, we advise you to add a coat of food-grade oil to the wood's surface. You can easily acquire bottles of mineral oil from most online kitchen supply retailers. It is a cheap and widely used option. Alternatively, you could make your homemade mineral oil and beeswax mixture.
Increase the wood grain
This step is another step in preparing the wood for the stain's maximum acceptance and increased penetration into the wood. This cycle is identify by could various terms in carpentry circles. It is now and again called raising the grain or water-popping the grain. This cycle makes the finishes of the wood strands stand up, which permits the colour to drench into the closures of the staining acacia wood fibres; this improves the stain's ability to penetrate deeply. The raised ends of the grain will feel rough and as though the wood needs to be sand again if you run your palm across the cured surface. You need to see this to know that the wood is ready for staining.