HAND SCRAPED ACACIA FLOORING
tobacco road hand scraped golden acacia hardwood flooring
Chinese Short Leaf Acacia
Surface:Hand scraped stain finish
Plank Size:2-4ft Random Length x 5" x 3/4"
Color:Natural tobacco road golden walnut
Edge Type: slightly bevelled
Joint System:Tongue & Groove
Quality Standard: FSC certified
Installation: Nail down,underground heating not recommended
Life time structural warranty,4 times resanding allowed
Price Range:3.2-3.6$/s.q.f
---
Remarks:
The products photos published on our website are intended only as illustrations, wood color sheen shown are only for reference per the printing process or device screen allows.Due to this limitation,not possible to show accurate effects on different room light conditions .You are welcome to order physical samples to avoid any complains.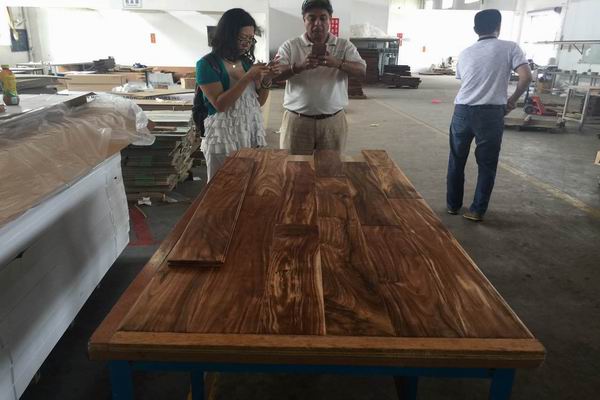 The No.1 sales item - hand scraped tobacco road acacia golden walnut ( asian walnut) from ACACIA DEPOT .Our genuine short leaf acacia lumber comes in suprisingly high durability & janka hardness over 2200 psi,while trational American walnut less than 1200psi on Janka hardness.With impressive magnificient golden walnut wood grains, our tobacco road acacia features an aluminum oxide matt UV finish for extra protection.You would get less troubles on maintenance for surface scratch issues.
Each plank is 3/4" x 5" wide with a random length. Each pack in white carton contains 23.634s.q.f planks.This hardwood comes in factory finish for 8 years residential use, and it allows 5 times more resanding through out whole life span.
By purchase high quality discounted acacia hardwood floors directly from ACACIA DEPOT mill you can save more than any buy from any US local distributors while we never compromise with quality standard.
Know the Essential Factors of Golden Acacia Wood Flooring
Do you have any idea about golden acacia wood flooring? Then go through this guide to better such a process of flooring. Golden acacia wood flooring is developed with a unique flooring process that offers excellent flow to the residents.
At the same time, it offers the perfect opportunity to enjoy highly functional living arrangements.
Categories used for flooring:
A wide range of effective flooring categories are available; from that, golden acacia wood flooring is the best choice. The golden acacia wood flooring design varies from lightly to yellow with a salmon tint with brown undertones.
Apart from that, this flooring is easily recognizable as the grain pattern, and it shows more extensive lines, and the lines are presented in wavy and zigzag patterns. The process of maintenance is very easy with using of this flooring.
Get better opportunities:
Most homeowners like the flooring, which enhances the look of the décor. Apart from that, its pattern is beneficial for hiding scratches and dirt in your home.
The complex golden acacia wood floorings will provide the best result for the flooring in the process of particular schemes. The unique flooring process helps to enjoy the apartment space's benefits.