News
Long leaf Acacia VS Short Leaf Acacia
Views: 15710 Update Date: Oct 05 , 2016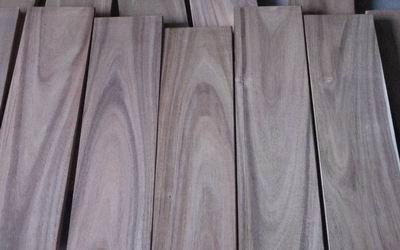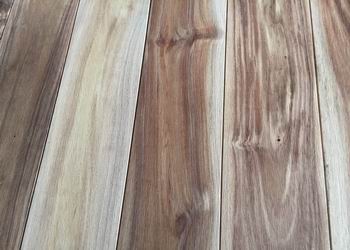 Long Leaf (big leaf) Acacia
Common Name(s): Big leaf acacia
Scientific Name: Acacia mangium
Distribution: South east asia,Australia and Papua New Guinea
Tree Size: 65-100 ft (20-30 m) tall, 1-2 ft (.3-.6 m) trunk diameter
Average Dried Weight: 515 kg/m3
Specific Gravity (Basic, 12% MC): .42, .52
Janka Hardness: 1,100 lbf (4,890 N)
Modulus of Rupture: 14,230 lbf/in2 (98.2 MPa)
Elastic Modulus: 1,605,000 lbf/in2 (11.07 GPa)
Crushing Strength: 7,550 lbf/in2 (52.1 MPa)
Shrinkage: Radial: 2.8%, Tangential: 7.8%, Volumetric: 10.7%, T/R Ratio: 2.8
Endgrain: Diffuse-porous; solitary and radial multiples; large pores in no specific arrangement, few; parenchyma vasicentric; narrow rays, spacing normal.
Odor: No abvious odor.
Allergies/Toxicity: There have been no adverse health effects associated with Mangium. See the articles Wood Allergies and Toxicity and Wood Dust Safety for more information.
Sustainability: This wood species is not listed in the CITES Appendices or on the IUCN Red List of Threatened Species.
Short Leaf acacia
Acacia confusa(Asian walnut) is a perennial tree native to South-East Asia. Some common names for it are Acacia Petit Feuille, Small Philippine Acacia, Formosa Acacia (Taiwan Acacia) and Formosan Koa. It grows to a height of 15 m. The tree has become very common in many tropical Pacific areas, including Hawaii, where the species is considered invasive.
Its uses include chemical products, environmental management and food and drink. The bark may be ground into a powder and saturated into water to create a tea, or may be spread onto various foods as a spice and taste enhancer. The wood has a density of about 0.75 g/cm3. In Taiwan, its wood is used to make support beams for underground mines. The wood is also converted to charcoal for family use. The plant is used in traditional medicine and is available from herbal medicine shops in Taiwan, but there has been no clinical study to support its effectiveness. It is also frequently used as a durable flooring material.
DATA SHEET COMPARISON
Long leaf Acacia

Short leaf Acacia
DENSITY
0.55-0.65g/cm3
0.75-0.9g/cm3
ORIGIN
Malaysia

,

Vietnam

South China

,

Taiwan

PHOTO SENSITIVITY
NO
NO
ODOR
NO
NO
SCIENTIFIC NAME
Acacia Mangium
Acacia Confusa.
COMMERCIAL NAME
Big leaf acacia/ long leaf acacia
Acacia Walnut, Asian Walnut
JANKA HARDNESS
1700psi
2250psi
BENDING STRENGTH
10500psi
7500-12000psi
MODULUS OF RUPTURE
10800psi
17500psi
CRUSHING STRENGTH
46mpa
75.5mpa